Get togethers. I LOVE hosting and attending a good party. Who doesn't? But what about the parties you need to bring a dish to pass. Ugh…The dreaded, "Well, what should we bring?" Well, for you lazy people out there who take the easy way out, which I have done multiple times, bring a great bottle of wine. Done. But if you are more motivated, then I have a slightly, yes, just slightly, more labor intensive dish for you. I guarantee you, that if I can make an appetizer that everyone, and I mean EVERYONE at the party asks how I made it, you can throw this dish together too.
It is six ingredients total. Here's how to get started. You need feta cheese, green onion, tomatoes, and olives. Now don't overthink this. Pick either a plain feta or a seasoned feta, like Mediterranean Herb. Pick a type of tomato. I recommend either grape or cherry. Then finally, olives. I like the flavor that Kalamata Olives give this dish, but by all means, add green or black or none at all if you prefer.
After the chopping, you need two more ingredients to complete the Feta Cheese Dip. Olive Oil and seasoning. Olive oil doesn't really matter for brand. Use inexpensive or expensive oil, doesn't matter. For seasoning, I use Cavender's All Purpose Greek Seasoning. Honestly, you could use any type of Greek or Mediterranean Seasonings, but I like this one the best.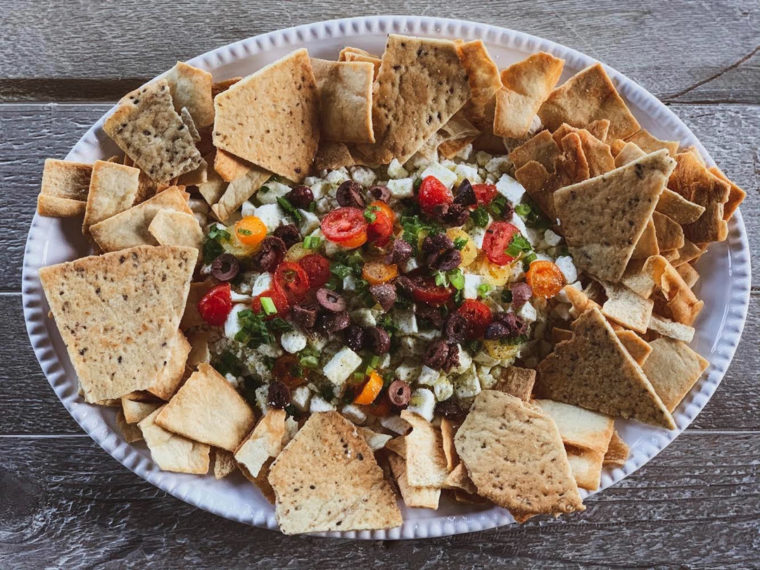 The best part of this recipe is that you don't have to measure anything. It all depends on the size of the dish you are serving and how many guests will be devouring it. You literally throw it all together by layering each ingredient one on top of the other. First, pour the olive oil on the bottom of the dish so that it's covered. Next, cheese. Pour the feta so that it covers the olive oil. Then sprinkle on the rest of the ingredients. Top with one more swirl of olive oil and then season to taste! I'm a salt addict, so I tend to season more heavily. Your choice though. Place your pita chips, I use Stacy's, or I LOVE Sami's Bakery Millet and Flax Chips. Finally, eat it! Easy peasy, right?! Guaranteed party favorite. Until next time!
-Briana